CES 2019: Replacing Humans with Supercomputers
CES, formally known as the Consumer Electronics Show, is a yearly convention that unveils the latest advances in technology. Last week, I attended CES where it seems the overarching theme was how to eliminate humans from processes, or better said: how to use artificial intelligence (AI) and computers to process the abundance of data we've been collecting.
Check out my review of the emerging technology from CES below so you will know what to expect in the not-so-distant future:
Smart Cameras Using Artificial Intelligence
I think one of the most useful, yet alarming, technologies emerging this year is AI applied to camera streams. The City of Orlando tried to deploy this technology and caught a bunch of flack. It is now possible, and has been for a while, for governments to analyze their video streams using servers in the cloud. They can identify people, text, scenes, activities, as well as "inappropriate content". In fact the average person can now tinker with this technology for less than $50.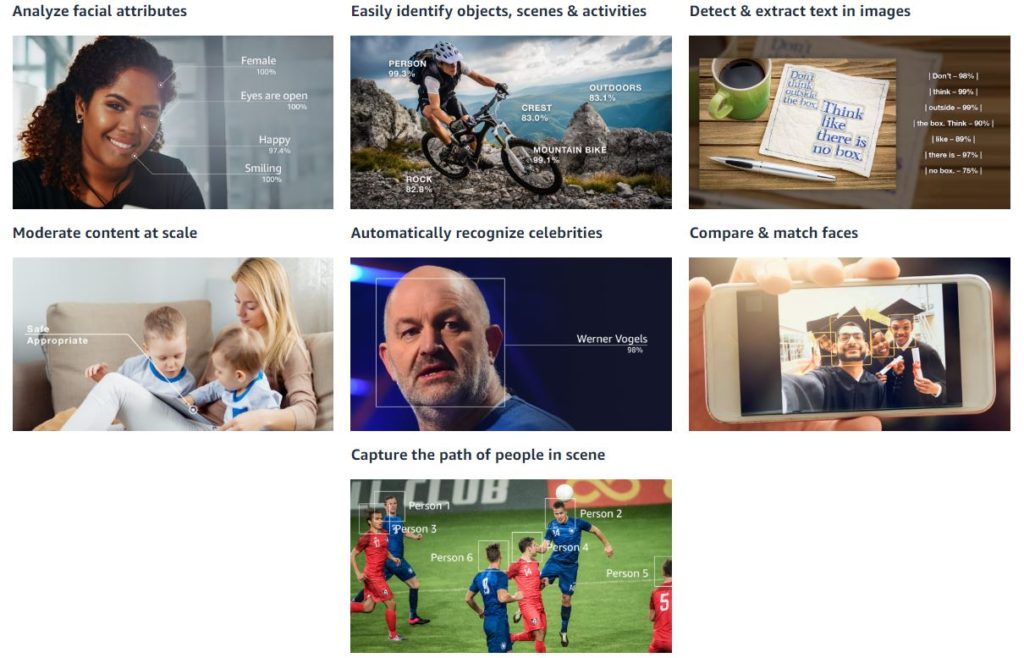 In case you're not paranoid yet, China has already developed this technology and uses it en masse. They call it their "personal credit information system". It scores each citizen on every aspect of life, from spending habits to piety.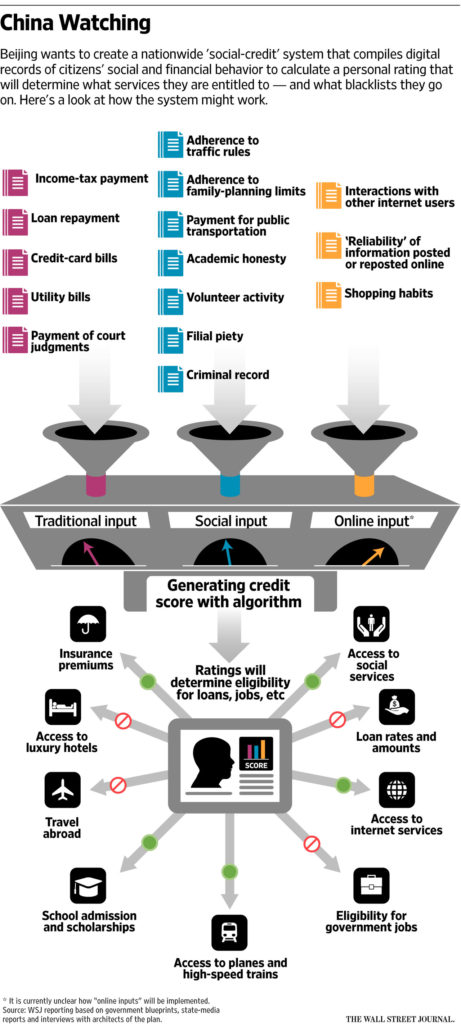 Not convinced on how well this software can identify a person and whether or not they're smiling, happy, sad, etc.? Test this out free by uploading a picture to Amazon's Rekognition system yourself.
Samsung's Smart Police Department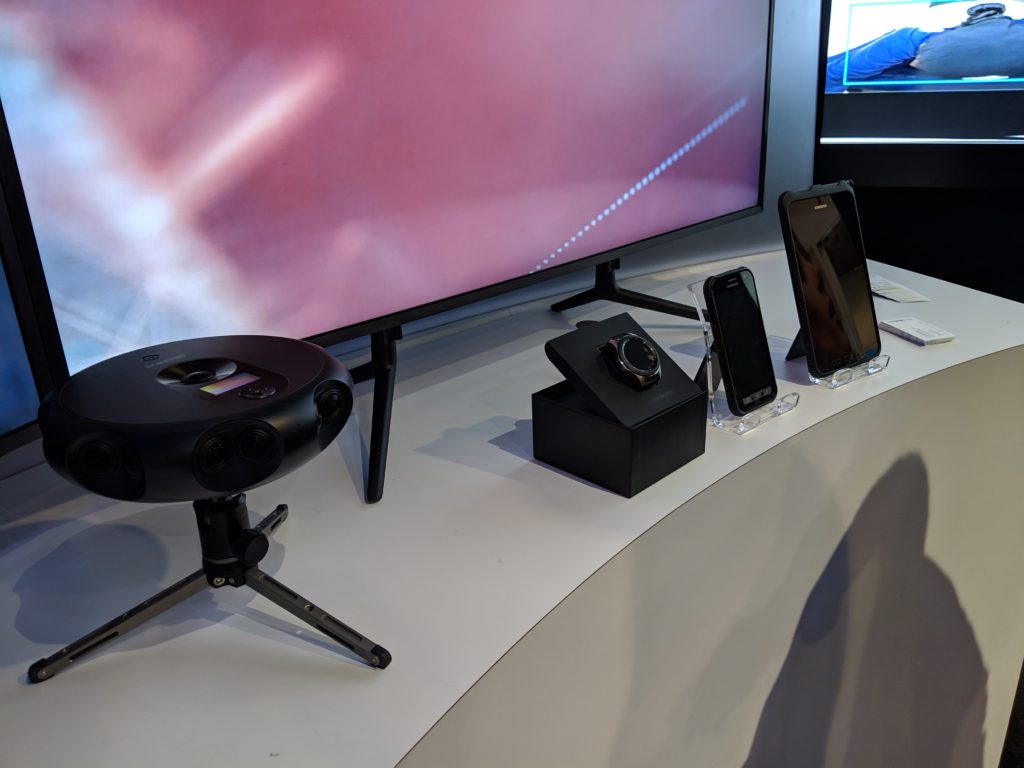 Samsung has teamed up with AT&T and IBM to release an entire police tech package. The full package includes a camera, smartwatch, tablet, and phone, all seen above. The camera can be mounted to the top of police vehicles to see a full 360 degrees. It then ties in to IBM's Watson to process the video feed, which can then do everything from scan license plates to track vehicles, all real time. The smartwatch has the ability to monitor a police officer's EKG for health purposes. The tablet can dock using Samsung Dex technology which eliminates the need for expensive Toughbooks, which can cost thousands of dollars. The phone doubles as a body camera. All of this ties in to an IBM backend for centralized processing and control. Although alarming, I have to say it was a pretty impressive setup.
Drones, Drones, and more Drones
Passenger Drones
Bell had their taxi drone on display which is quite impressive in person. If we thought regular drones were a hindrance, we're entering completely uncharted territory with the taxi drone.
Police Passenger Drones
Dubai police had their single passenger drone on display as well. It may be hard to imagine now, but flying police may be a thing of the not too distant future.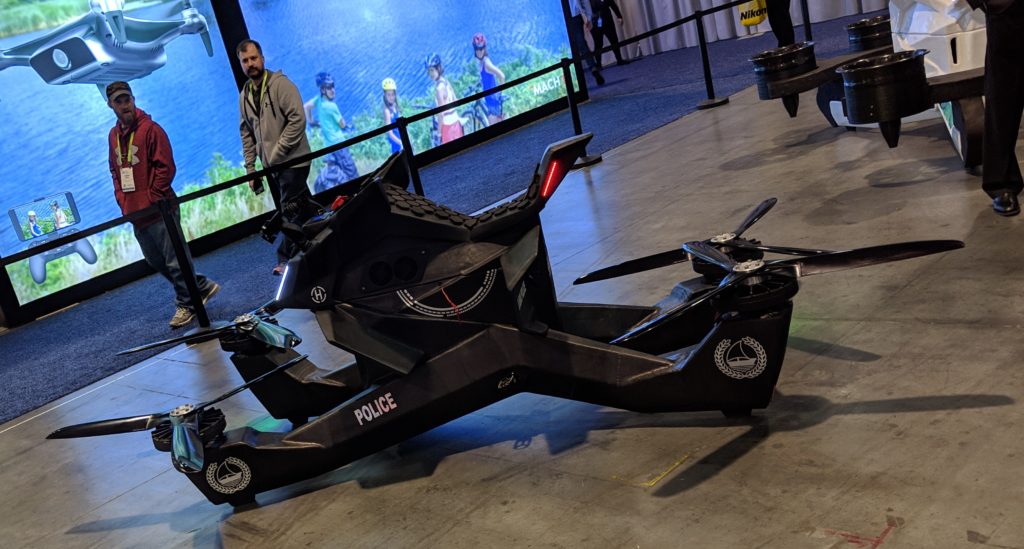 Automated drone deployment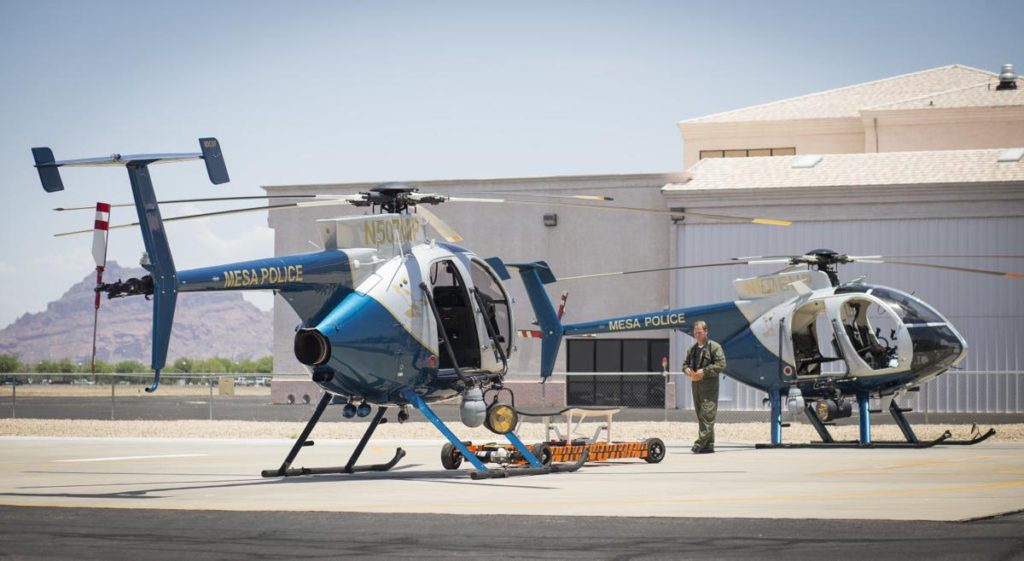 Whereas use of drones and some issues that come with them are well known, government use of drones has been limited. Today, when a police department needs air support we call in one of our helicopters. The annual maintenance and cost of these aircrafts are in the millions. One company is looking to disrupt this industry.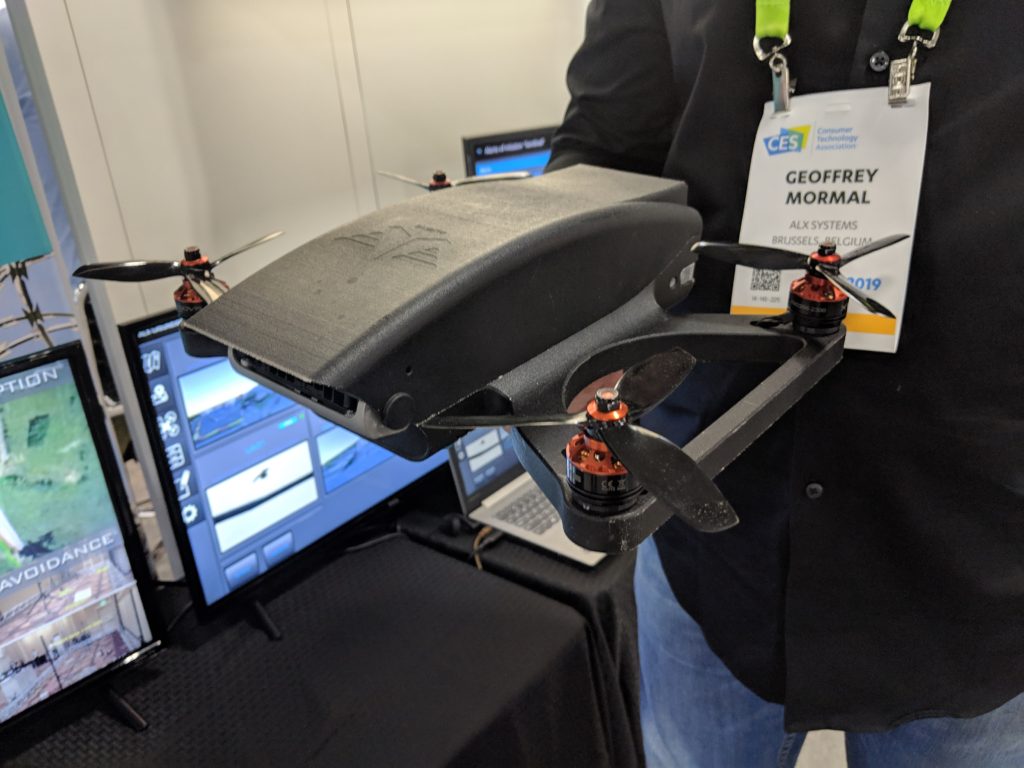 A company, ALX Systems, is using drone technology to disrupt multiple industries and showcased multiple products to demonstrate how they plan to do it. Their first product showcased was a drone-based system that is designed to be deployed in a box that is mounted and placed throughout the city. When someone calls 911, operators are then able to dispatch these drones to provide eyes in the sky within seconds. They can further be deployed on a mass scale at minimal cost. ALX also showcased drone-hunting drones that were being developed to knock rogue drones out of the sky. Perhaps a perfect solution the recent airport shut down at Gatwick?

The last technology they had on display was a drone which used lidar/radar based technologies to go into a building and 3D map the layout prior to officers entering the facility. Drones for 3D mapping environments were plentiful. Another company had this drone (below) which uses the same technology.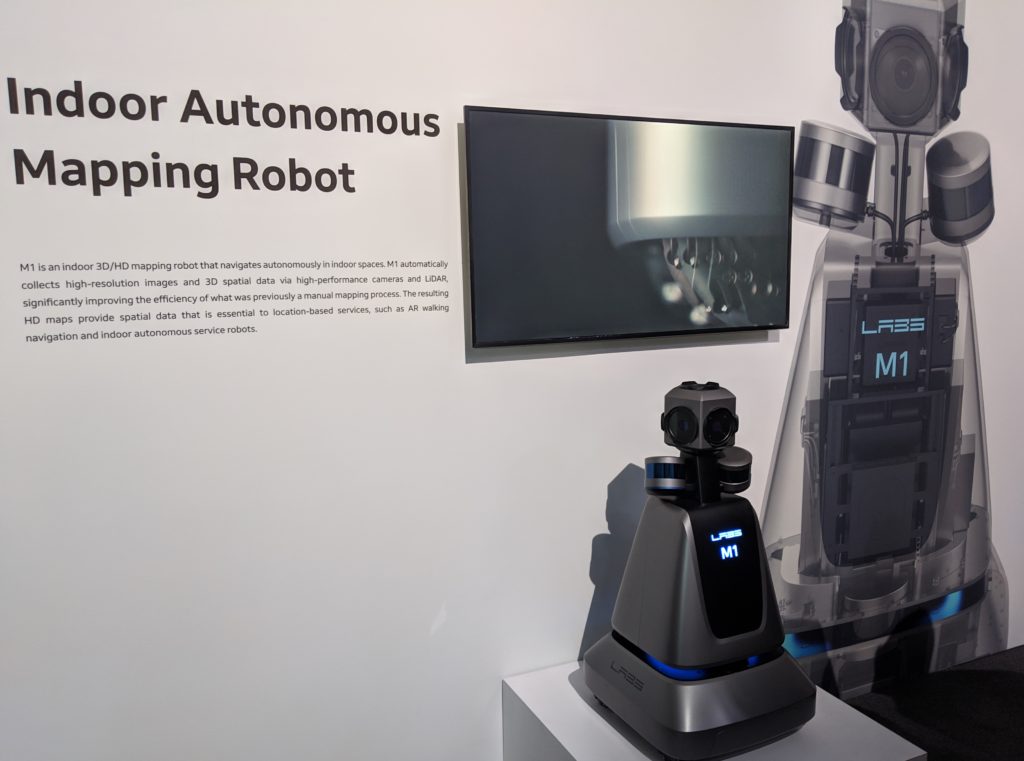 FLIR drones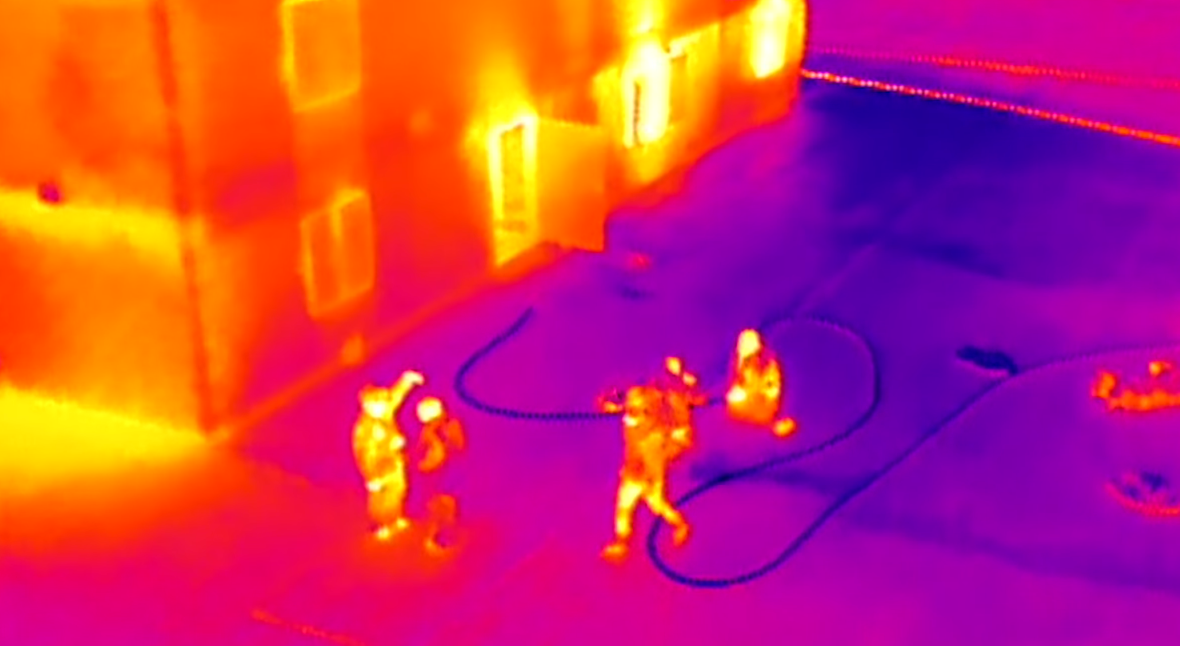 Sticking with the topic of drones, DJI had some of their latest technology on display. They've partnered with FLIR to create infrared thermal imaging based drones. The applications for this are endless.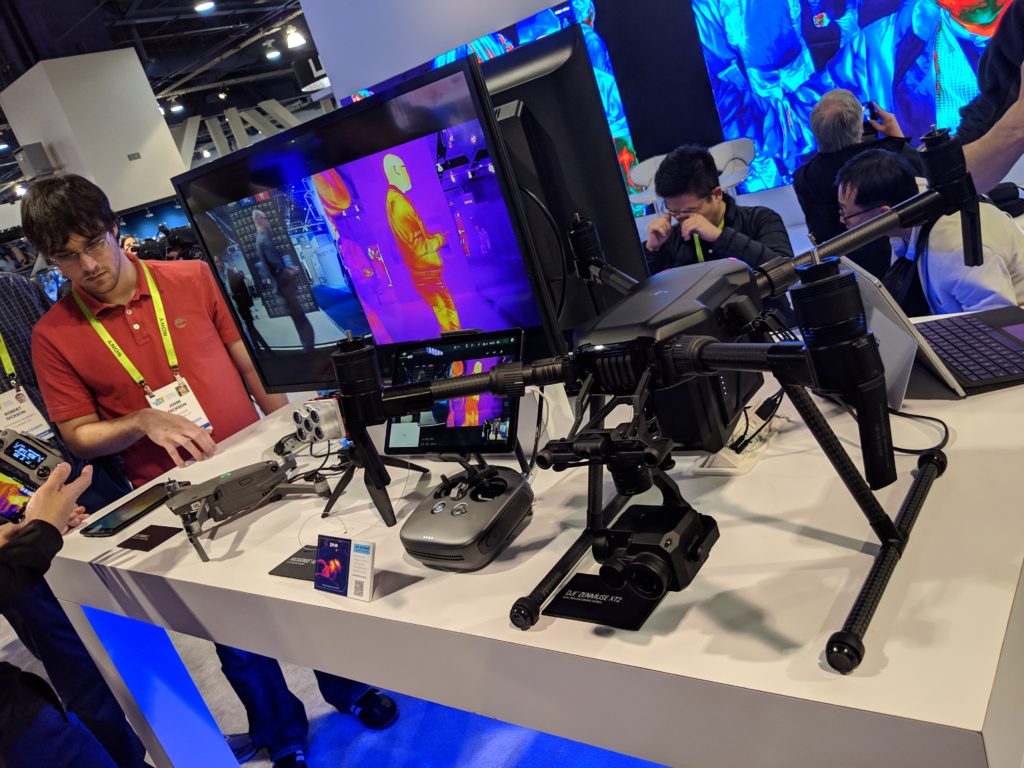 Here is DJI's video outlining the technology.
Smart Water Valves
Another technology on show at CES, smart water valves have the potential to revolutionize water metering. One of the most frequent calls we receive from constituents is about water leaks and the abhorrent cost of water. The WaterSwitch allows for you to monitor your water usage down to the accuracy of 1/10 gallon. It also can detect leaks and turn itself off automatically when needed.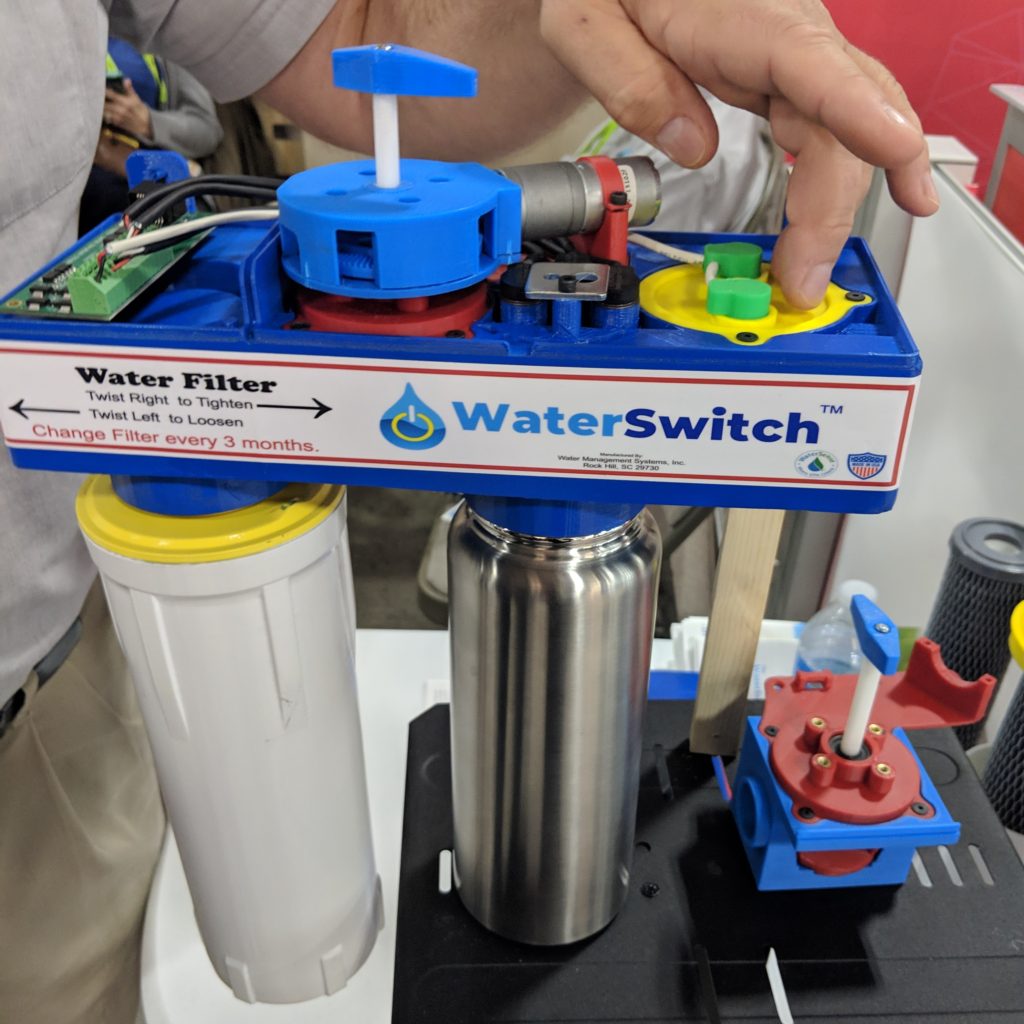 Quantum Computing
In case you're wondering how all of this data will be processed, IBM has the answer. Look no further than IBM's new Quantum computer, the IBM Q.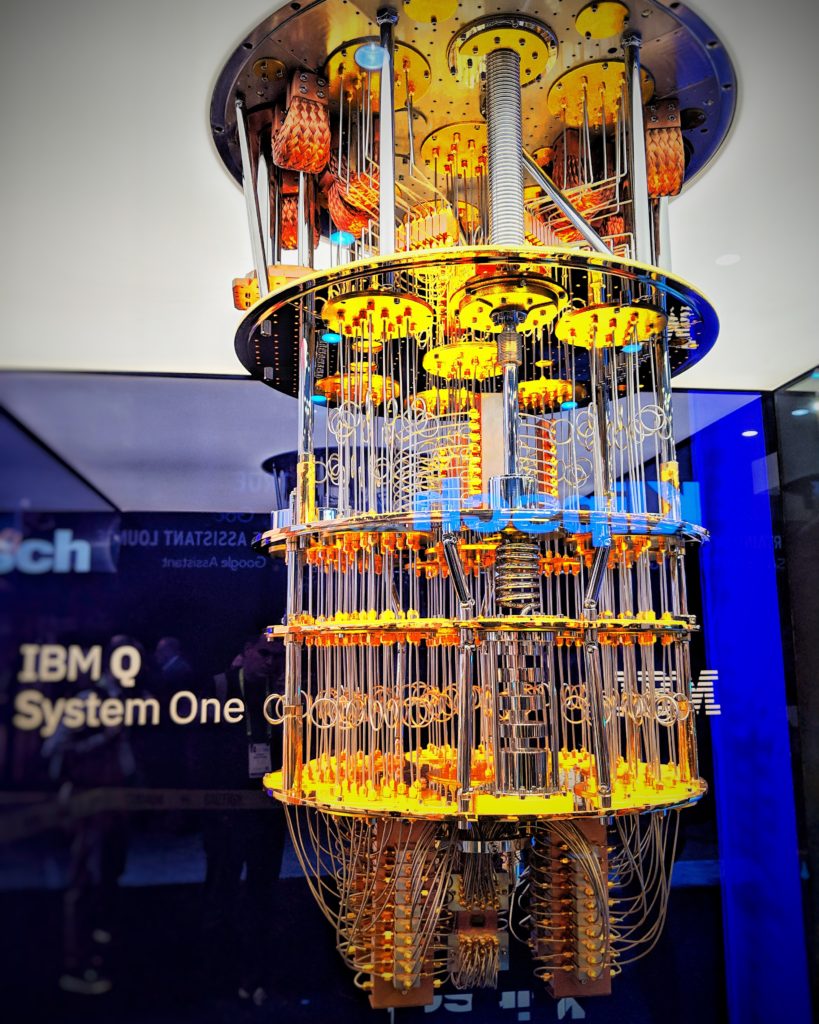 This supercomputer was also on display at CES. More information on it can be found here.
Startup Innovation
CES also features an entire exhibit floor of startup tech companies. Some of their products included: gas/air quality sensors housed in everything from meters to street lights; remote cameras using AI and LoRa technology; glasses with built-in holographic lenses; smart soil moisture detectors to prevent overwatering parks; and anti-poaching cameras to protect water wells.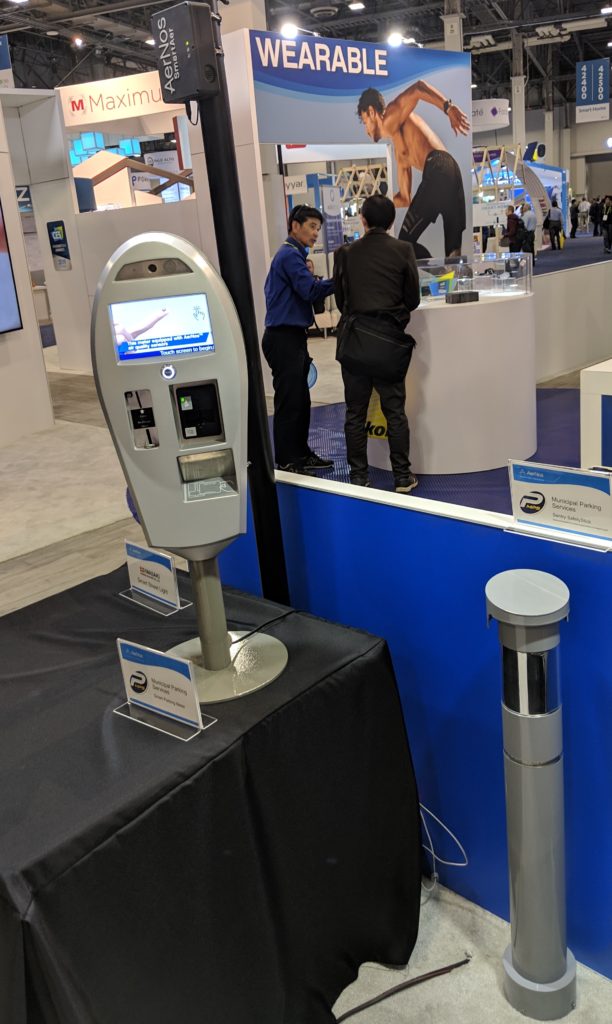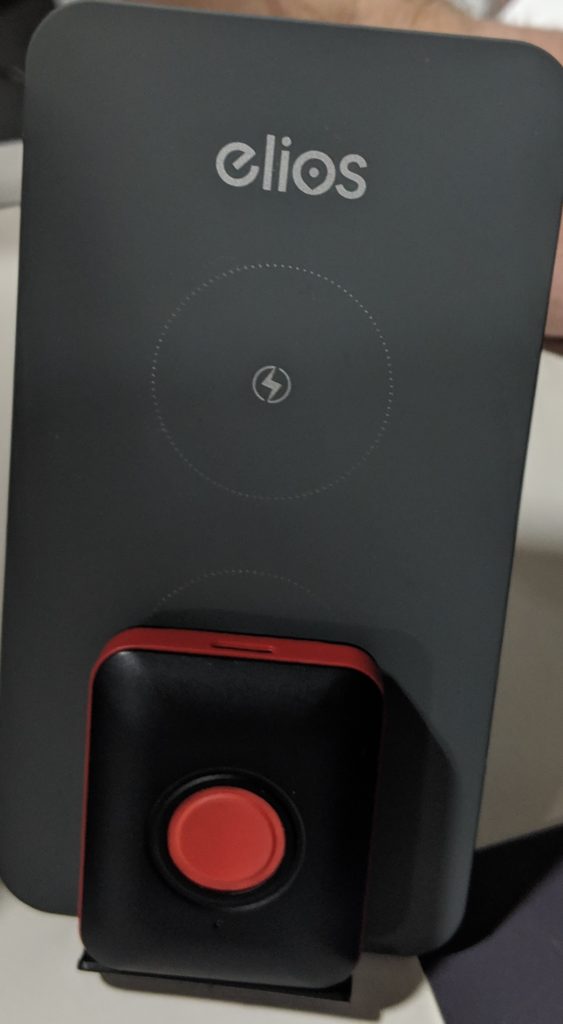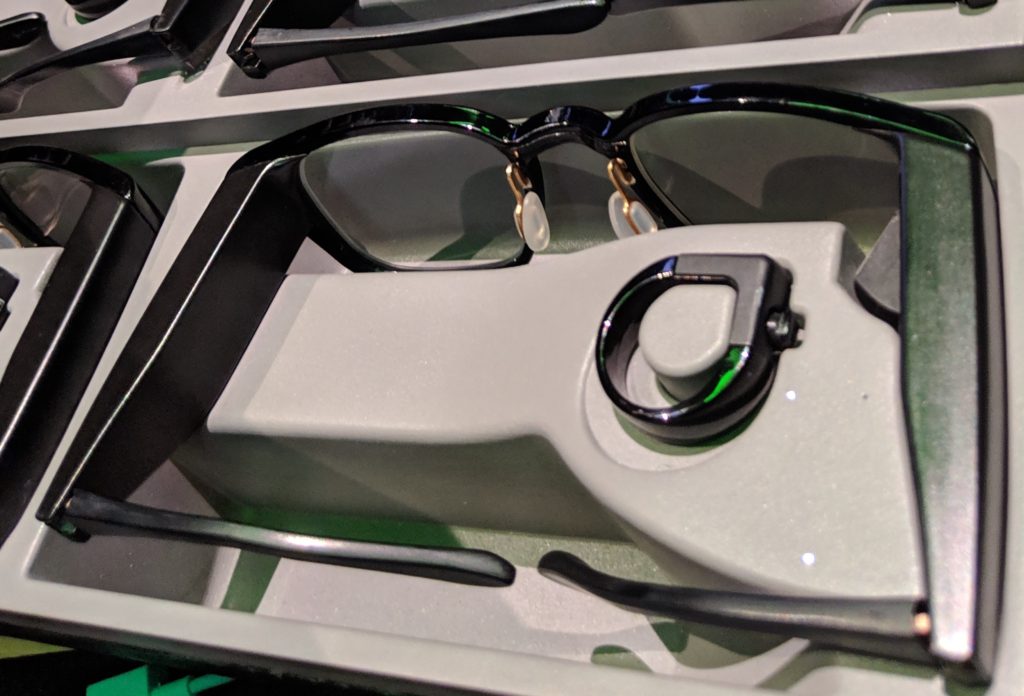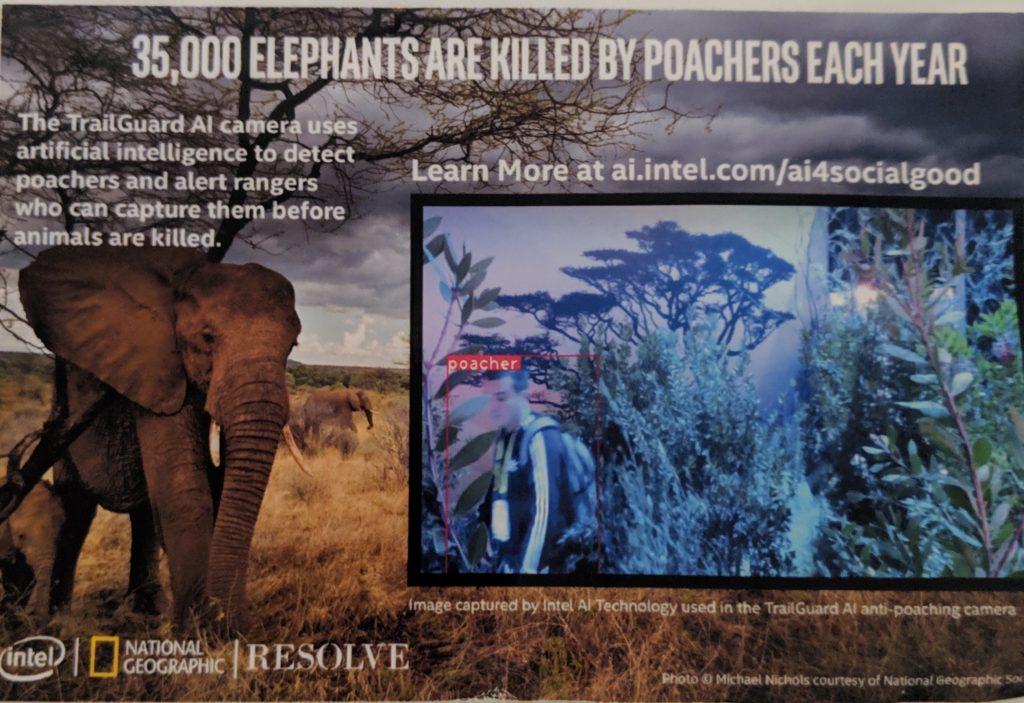 Robot Drinks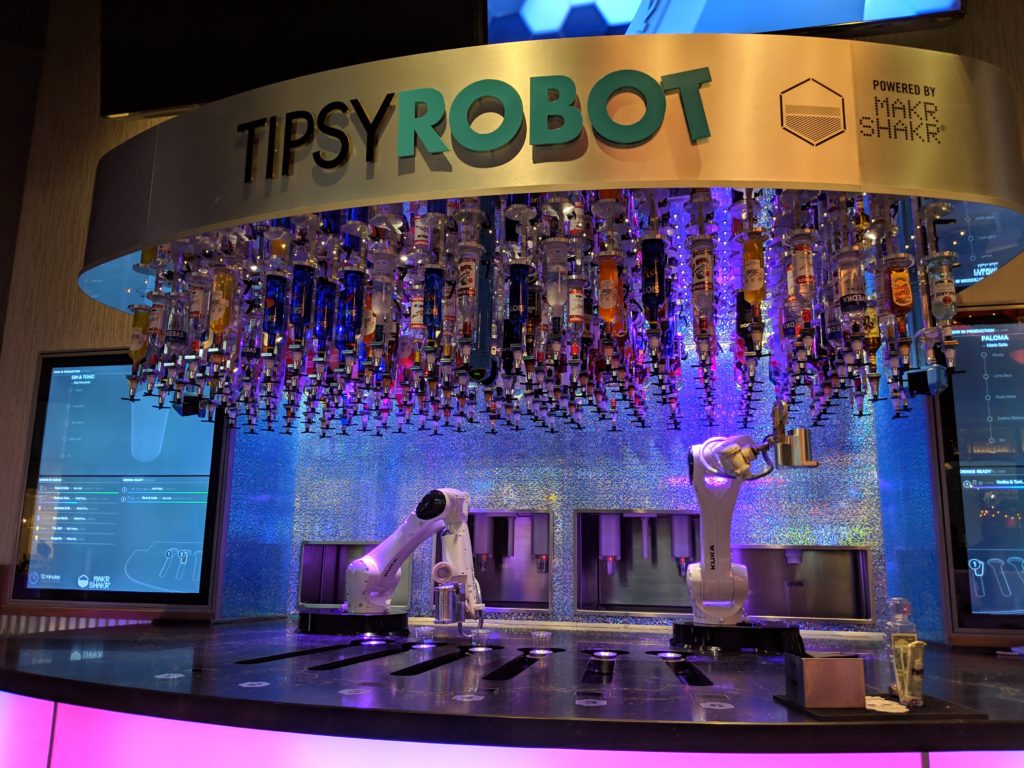 If all these drones, robots, and AI technologies (oh my!) have you stressed out, have no fear. In Las Vegas, where CES was held, you can now have a drink fully served to you by a robot. Cheers!