Mesa Picks Lincoln Property Class A Office Proposal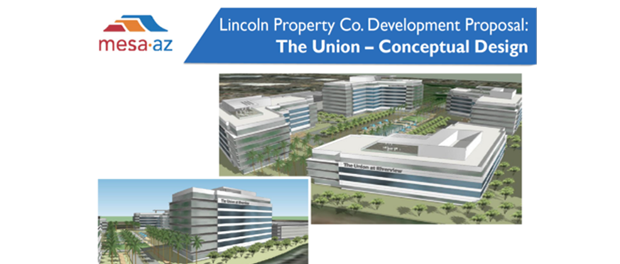 Source: Phoenix Business Journal
(A study session of the Mesa City Council recommended) 7-0 Monday to pick a new Class A development on 28.2 acres of city-owned land next to the Chicago Cubs Sloan Park.
Lincoln Property Co. and the Boyer Co. had competing office developments for the land which is now city-owned soccer fields in the Riverview area near Rio Salado Parkway, Dobson Road and Loop 202.
Council picked the Lincoln development – a 1.35MSF office project called The Union. It entails four new office buildings between four and eight stories. The buildings would range between 225KSF and 450KSF square feet each.
Lincoln is partnering with Harvard Investments on the development. Mesa and Lincoln still need to craft a final agreement for The Union.
Both Lincoln and Boyer (also) have new developments going up in Tempe.